Welcome to the New School Year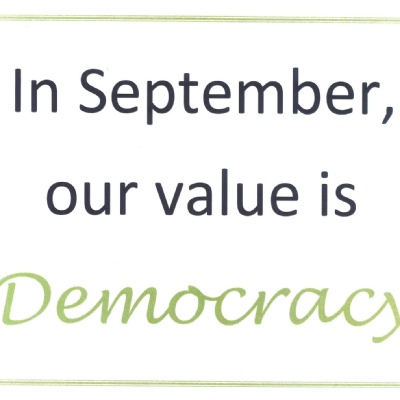 In September 2017 our value is... Democracy
Welcome to the new school year! We hope everyone had a very good summer break, and that we are all ready for a wonderful start to the term.
To further support our School Values and our promotion of 'British Values', we think about and celebrate a different value each month, often linking them with different events and festivals, both locally and around the world.
We look at the value in assembly and in class and we aim to 'live' that value in the way we work with others in school.
In September 2017 our value is... democracy
We always hear about the rights of democracy, but the major responsibility of it is participation. Wynton Marsalis
Democracy cannot succeed unless those who express their choice are prepared to choose wisely. The real safeguard of democracy, therefore, is education. Franklin D. Roosevelt
Freedom and democracy are dreams you never give up. Aung San Suu Kyi
A full and fair discussion is essential to democracy. George Soros
It is the duty of government to make it difficult for people to do wrong, easy to do right, William Gladstone
Government of the people, by the people, for the people. Abraham Lincoln (quoting John Wycliffe)