Final Christmas Assembly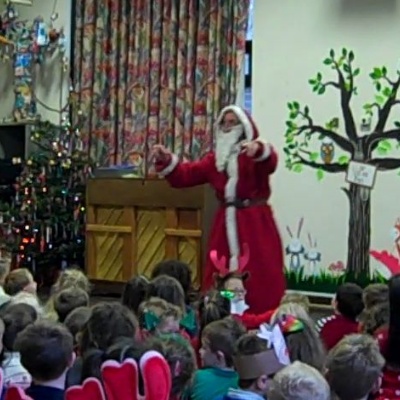 and the First 'Flash Mob' at The Firs!
Today, during our final assembly, we said goodbye to Danielle Watson, our Kitchen Manager and Kyra Dillnutt, our Kitchen Assistant who will both be missed by the children and staff. We would like to wish them all the very best for the future.
Father Christmas made an appearance during our assembly and delivered lots of presents to all the classes.
He then led our first ever 'Flash Mob' at The Firs The children were very excited and joined in and then went back to class to enjoy opening their presents.
A Few Christmas Thanks Yous
We would like to thank all the parents for their kind donations towards the party food and prizes – it was greatly appreciated by all the children, who thoroughly enjoyed their Christmas party. We would like to thank all the children and staff in YR-Y3 for their very enjoyable and successful Christmas productions. We would also like to thank all the parents who helped provide costumes for the Christmas plays and to those who helped on the day. Your help is greatly appreciated by all the staff and children. Finally, a big thank you to our PTA for their hard work and the fantastic support they have given the school this term.
End of Term Thoughts
We have come to the end of another busy term and the staff would like to take this opportunity to thank all the parents for their help and support.
All the children have enjoyed a variety of festive activities in the last few weeks. They have taken great pleasure in watching each other's Christmas concerts and there have been very enjoyable Christmas parties for everyone this week. This year the PTA organised an outside provider for the Christmas pantomime and on Monday, we were entertained with a wonderful production of 'Cinderella', which was a great success and lots of fun for all the children. After the pantomime, the PTA delivered presents of books to every child and we would like to thank them for their huge generosity.
This is a time when we can reflect on the many adults who make a huge contribution to life at The Firs and we thought about this and thanked them for their contributions in assembly.
Finally, and on behalf of all the staff and Governors I would like to wish you all a very enjoyable Christmas and Happy New year. We look forward to seeing all the children back in school on Wednesday 4th January.